It is a fact that a lot of people today aren't aware of the difference between a prepaid, debit and a credit card. Modern-day people need to understand the basic differences between each of these cards in order to proceed with monetary transactions, which are now very common.
The confusion is understandable since these cards all look similar, have the CVVs, have the same kind of expiration date, etc. After reading this article, you will clearly understand the differences if you fall into this category.
Prepaid Card Vs. Debit Card Vs. Credit Card: What's the Difference?
Let us begin with a debit card since that is one of the most common one. The reason for this is, if you have a bank account these days, you get a card linked to it. This card is your debit card. Your debit card from bank X will be linked to your checking account at bank X.
Any kind of transaction, such as a purchase or swipe of a card, deducts money from your checking account. You can only spend the amount which is available in your checking account. You can also withdraw money from an ATM using a debit card. Each time money is deposited or withdrawn with the debit card, you get to see an update in real-time.
Having the real-time feature ensures that you always spend within your budget and your available funds. Overdraft fees can be charged in case you use your debit card to spend money beyond your available funds in the account. Different banks charge different fees for overdrafts. You may sometimes be able to exceed the limit of your debit card if you are a privileged bank customer with no additional charges.
A debit card has a PIN that you can use to make payments at a store or withdraw money from an ATM.
Credit Cards-

The credit card is very similar to the debit card when it comes to the way of using it – it can be used to make online purchases or at stores. However, a debit card is very different from a credit card in terms of its functionality and features.
With a debit card, you pay with the money you have in your bank account, then use it. With credit cards, there is no money of yours to start with. Let us understand this in the simplest possible way – the bank or credit card issuer gives you a certain amount of monetary credit which is called a credit limit.
For example, let's say $5,000 is your credit limit. As a result, you have $5000 at the beginning of the month. During the month, you made some purchases via your credit card totaling $3000. Your entire credit limit will be reduced by $3000 and your total liability for the month will come to $3000 when you receive your statement. 
Anatomy Of A Credit Card
Typically, credit card companies give customers 15 days to pay the due amount. After the due amount is received, the credit limit will be reinstated to the amount initially allocated to the customer.
But there's a catch! If you don't pay within a certain time, you'll be charged heavily. Payment of the minimum due amount is the only way to avoid late payment penalties. The rest can be carried forward, and interest will be paid on the balance in the next statement. You can withdraw money from an ATM just like a debit card, but the charges and interest rates are very high for ATM withdrawal.
Use credit cards wisely if you have just started using one. Although you don't spend the money from your account, you will eventually pay back the money you have utilized. Because of this, you should take a reasonable credit limit. Generally, a good rule of thumb to follow if you are just beginning to use a credit card is – stick to your credit limit by borrowing at most 30% of it and paying it off in full each month.
A Piece of wise advice:
Avoid accumulating a credit card debt since it is really hard to get out of it.
Furthermore, most credit cards charge an annual fee and impose other charges. You should always read the terms and conditions related specifically to the hidden fees and charges when applying for a credit card.
Nevertheless, banks do not issue credit cards to everyone. Credit cards can only be obtained by those with good credit scores. Your credit scores drop when you default on your payments previously, and along with it so do your chances of obtaining a new credit card.
Prepaid Cards: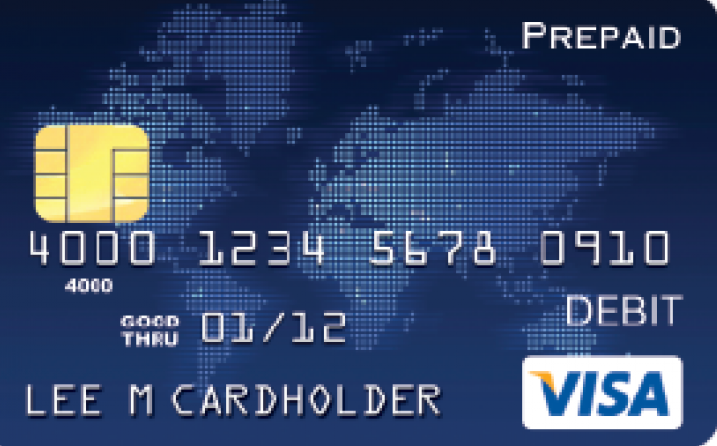 A prepaid card combines the features of a credit card and a debit card. A prepaid card is similar to a credit card because there is no bank account attached, while the credit can only be used up to the amount you load into the card, which is a feature similar to that of debit cards.
You will have to load your prepaid card with a certain amount before you start using it. Most people use these cards for gifts. Generally, a prepaid card is offered by giant corporate houses as a reward for their employees. These can be used at all the places similar to credit and debit cards and also to withdraw money from the ATM.
There are different types of prepaid cards, so if you have one or planning to get one, check the type. A few types of popular prepaid debit cards include free prepaid cards, reloadable prepaid cards with no fees, and no-limit prepaid cards. The meanings of these are pretty much clear from their name.
Advantage of Prepaid Cards:
One advantage of a prepaid card is not having to open a bank account to use it like one has to do with a debit card, but rather you can use one on the go. Also, you don't need to have a good credit score like in the case of a credit card. The biggest drawback of a prepaid card is that one has to pay fees at every step. You may have to pay a setup fee, monthly usage fees, fee every time you load money in a card and so on.
With this, we have covered everything related to credit, debit and prepaid cards. By now, you should be very easily able to share your learning with anyone on the differences of these cards.