Where to Cash Your Stimulus Check if You Don't Have a Bank Account
Governments give out stimulus checks to tax-paying citizens in order to boost the economy. In 2020, stimulus checks were issued by the United States because of the shutdown due to the COVID- 19 pandemic that significantly impacted consumer households. 
According to a Forbes article, you may get these through checks or direct deposits; over 25% of USA households are "underbanked" or "unbanked. It means that the population may not have access to a bank or any financial organization. 
If you are to receive a check and face the problem mentioned above, this article may help you ensure you can cash your stimulus checks hassle-free. 
Solutions to Cashing your Stimulus Checks if you Don't have a Bank Account
 This article explores four methods of cashing your stimulus checks. 
 

  PAYPAL 
Cashing your stimulus check through PayPal is one of the easiest and convenient ways. That is because you can access PayPal using a smartphone from home. It is just a bonus that you don't have to pay a check cashing fee!
It makes use of a "PayPal cash plus account," and you can directly add your stimulus check to this account. Once you have received your money in the PayPal cash plus account, you can use it wherever PayPal is accepted. 
Keep in mind that- To be able to cash your check through PayPal, your check has to be $5000 or less. 
Follow the steps below to set up your PayPal account- 
Step 1- Start by downloading the newest version of PayPal on your smartphone. You will be asked to fill out details like your email id, password, or phone number. 
Step 2-  Now tap on the "More" option you see. You will spot this at the bottom of your screen. 
Step 3- Tap on "Cash a check" to set up your PayPal cash plus account. You must remember to take a picture of the signed checks and then tap on "in minutes." Once your stimulus check is approved, your 1% cashing fee gets automatically waived off. 
The cash app is an alternative to PayPal and has fewer suite features to offer. As per the US government's new updates, your stimulus checks' direct deposit will take place into your account through the routing number or an account number that a cash app account provides. This direct deposit will only take place if your account information is present with the IRS.
Here is how you can set up your account to receive the Stimulus check through the cash App – 
Step 1- Open up your Cash app account. If you don't have one, set it up, then download the app and set up your account. 
Step 2- Click on the history section, and you will come across a message that says, "the government has started accepting direct deposit information to speed up your stimulus payment. See if you are eligible to submit your cash app routing and account numbers." Click on "Get Started."
Step 3- You will be directed to a screen that provides you some information. Carefully glance at it, so you don't miss out. Tap on "Continue" to move on. 
Step 4- Now, you will be asked to specify if you have or haven't paid taxes for years 2018 or 2019. Then tap on "next."
Step 5- Your mobile screen will now show a message that asks you to submit your information to the IRS. Tap on "Visit IRS," and you will receive a prompt asking you if you want to open that page on chrome or safari. Click on the option that suits you best.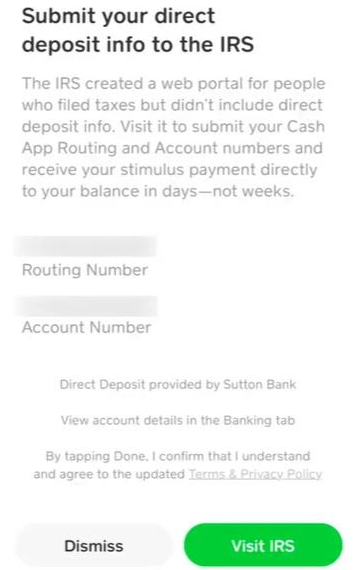 Step 6- You will be redirected to the official IRS website, where you find more information on how you will get your payment directly into the Cash app account. 
Scroll down on your screen until you spot the "Get my Payment" icon and click on it, and continue to fill out your form.
Once this is complete, you will be all set to get your direct deposit on the Cash app. 
 Walmart

Walmart allows the cashing of stimulus checks or adding the money to a Walmart money card. You will always find a Walmart in your vicinity making it a suitable option for cashing your check. Keep in mind that you will be paying an $8 cashing fee on $1000 or above amounts. However, if the amount is below $1000, you will be required to pay $4 as the cashing fee.
Carry your original check along with a valid ID when you visit the money services center. A Walmart associate then can deposit the remainder of your balance into a Walmart money card. Use this card to make purchases at your local Walmart store. 
Some local banks can cash your stimulus checks since they are government checkers. However, you will have to first confirm with the bank if they issue checks more significant than $1000. The banks can generally charge a fee of up to $8. Give your local bank a call and find out before you cash your check with them.
To avoid the regular chasing fee on your stimulus checks with the bank, you can consider opening a free checking account. 
Final Thoughts – 
Your key takeaway from this article should be that it isn't rocket science to ensure you can cash your stimulus checks. The four methods mentioned here are the easiest and also the most convenient. They will not take too much of your time from your busy schedules.