A credit card is a financial tool with a preset limit designed for instant purchases and transactions based on a credit line. For frequent shoppers purchasing from the affiliated brands of Home Goods, Sierra Trading Post, and Marshall, TJX Rewards credit card is the best option. It gets the users a good 5% back rate for spending a dollar along with a 10% discount on the initial shopping with the TJX Reward credit card. 
Based on a limited application scheme, the card is viable only with the tied-up stores. Like most other loyalty programs planned for credit cards, it requires no annual charges and offers a meaningful APR. 
Working Mechanism of TJX Rewards Credit Card
When shoppers get approval for the TJX Reward Credit Card, they are offered 5 back points for a single dollar purchase with brands like Marshalls, Home Goods, TJ Maxx, and Sierra Trading Post. The cardholders are awarded the certificates after fulfilling certain criteria. These certificates can be redeemed later, and a discount is also given on the first-ever purchase made with the card. 
The scope of rewards gets broadened with the increase in purchases at TJX stores. So, here are some of the facts that cardholders must be aware of the TJX Reward credit card.
Facts to Know About the TJX Reward Credit Card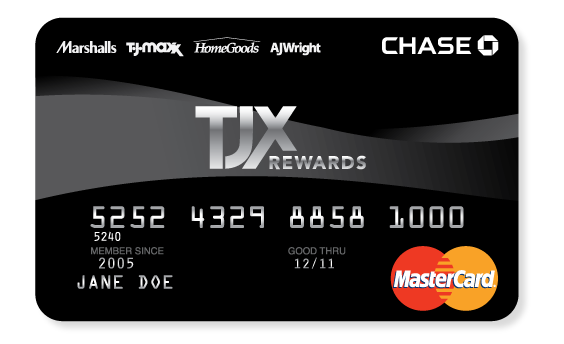 Chances of Reward Stockpiling for Shoppers
The shoppers with TJX Reward Credit Card get an amazing opportunity to accrue rewards whether the purchase is through a retail chain or online website. 
For every single dollar paid out at TJX brands, 5 points are earned. 
For every single dollar purchased on other stores, 1 point is earned. 
A single penny earns you a point, but there's even a redemption facility. A reward certificate worth $10 is given for shopping at retail chains, online stores of TJX brand when the points add up to 1000. If you are interested in scoring some decent points, prioritize shopping at TJX stores for various occasions related to holidays, schools, birthday parties, etc. 
No Provision for Shopping Splurge, but has an Upfront Incentive
If you are a big-time shopaholic, the TJX reward credit may be disappointing for making regular purchases. The standard credit card offers much more to their loyal customers incorporating deals and offers with every purchase. Though, the initial purchase discount of 10% is a significant cost saving on TJX brands. 
Not Meant to Finance the Regular Purchases
The regular spending of an individual includes purchasing groceries, gas, and paying bills of electricity and restaurants. TJ Maxx doesn't cater to every requirement. A TJX card indeed earns you a point by spending a dollar, but you have to wait before the points actually make some sense. The rewards only benefit you with TJ Maxx family brands shopping.

By no means a single credit card from TJX justifies your financial needs. Something that suits you is a cashback credit card with more redemption points and flexible earning. The cashback points can be quickly redeemed and transferred to your account. Having both types of credit cards facilitates the reward points adjustments of TJX brands.
Get Exclusive Shopping Facility on Merchandise
There are premium invitation programs arranged for loyalist cardholders of the TJX Rewards credit card. It typically welcomes you on occasions that are related to online and offline shopping events.

You get a chance to buy the exclusive merchandise that is available later to the other customers. Based on the shopping events, some treats and gifts are also sponsored by cardholders.  
Read More:  Credit Cards For International Travel
Carrying a Balance Could Be Expensive
This is an alert for the TJX credit card buyers to avoid carrying the balances in the future. The card has no provision for an introductory phase of APR, and it's relatively very high. So, a good buyer should always settle the balances in full and every month in the stipulated period.

Forgo plans to finance a bigger project like purchasing furniture or painting the house using this card. Require a breather on the interest, start with a standard rewards credit card with a nil introductory APR. 
Shoppers, Look out for the Fees
Shoppers must be happy to know that the TJX reward credit card includes no annual fees or foreign fees. The cash advances are also provided with this card which includes some nominal amount of $4 or 10% of the advance money, whichever is more. Also, look for the payment of late fees up to $35% when you seldom miss out on your payment due dates.

Bottom Line
If you have developed a love for shopping at the TJX brand, it is good to utilize the rewards points of the TJX credit card. The no-annual fees on the credit card indicate that your reward is safely locked. 
It's a great value-added program for the loyalist buyers of the TJX stores.