We know that you are well aware of credit cards and the facilities that they give. However, do you also know what a credit card concierge service is? A concierge service is like a Genie in a bottle, with some boundaries of course. You ask whatever you wish for and the concierge service will work it out just like a personal assistant.
Concierge services were originally started in hotels to look after customers. This team of employees used to look after the customer's personal needs. 
Now, banks got to see the demand for concierge services and started to offer them as perks that come with their premium credit cardholders. The idea seems pretty good, isn't it? However, anything that sounds and looks tempting has an array of terms and conditions with it. Today, let us give you a complete idea of how this service works and what are the benefits of availing of this service. 
How Credit Card Concierge Service Works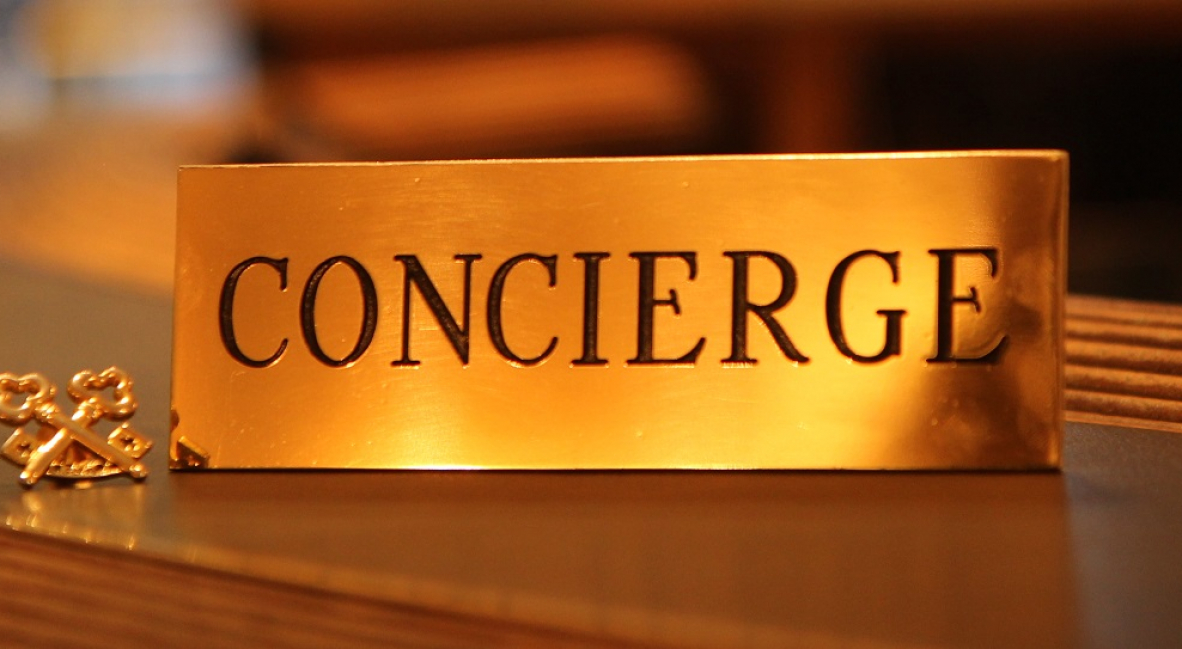 Suppose you have to make bulk ticket reservations in a hotel for a family trip. Just when you are about to make the reservation, you get an immediate business and you can't make time for the prior engagement. This is when you can take the help of the concierge service.
If you are a premium credit card holder and if your card comes with the perks of the mentioned service, then you can just call your bank and tell them to make the reservation for you.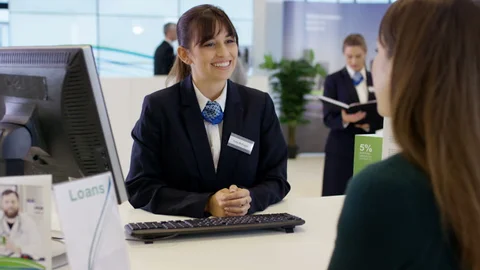 The designated team will not only make the booking, but they can also help you with the whole trip even. These include services like booking flight tickets, a golf match on the same vacation, event planning, etc. Do you have a pet to take care of while you're away on that vacation?
Don't worry because the concierge service will find even a pet care assistance service for you and will take care of that business as well. Along with that, credit card concierge services are usually available 24/7, which makes it even more convenient and useful.
Credit card concierge services have also become pretty accessible in today's times. You will most probably find the concierge service number in the credit card guide. All you need to do is contact your credit card concierge service by calling that number. You can also contact the concierge representative by calling the number on the reverse side of your credit card. You might also be able to find the number on the Internet.
Some credit card providers offer you concierge services without even having to call them. They have facilities that enable you to contact concierge reps via email, or on live chat from the credit card company's mobile app. 
What Happens When You Call a Concierge Representatives?
Getting something done through your credit card concierge service is really easy. Simply give a call on the concierge services number and you will be online with a concierge representative.
The rep will first verify your identity and confirm that you are the actual cardholder in question. For this verification, you may have to provide some information about your credit card. After the verification is done, you can make your concierge service request.
Be as descriptive as you can be and make sure to clearly state what service you need or want. Although the concierge may not usually be able to do anything that you cannot do, it can help you with certain tasks that you may find difficult or too time-consuming. 
The rep will confirm if your request can be accommodated, and then you will be told about the approximate timeline of the completion of the service. Generally, most services do not happen immediately and you can count on a wait time of a couple of days at least. 
Once the concierge service is completed in the best possible manner, a representative will call you or send you the details of services through an email and will also guide you about any further steps that you might have to take.
So, this is how a concierge service serves you. Now that we have a basic idea about credit card concierge services, let us delve into some details about these services, what they can or cannot do, and also how you can make the best use of concierge services coming with your credit card.
But before that, there is another important question that must also be answered.
How to Get a Credit Card with Concierge Services?
Getting credit card concierge services is as simple as getting a credit card. It is nothing different and nothing new. To get a credit card with concierge service benefits, all you need to do is apply for a card that provides such benefits.
There are many cards that come with concierge benefits in recent times and you can easily find a credit card that provides such services while also matching your other needs and spending habits. Although, concierge services are only available at specific card tiers.
For instance, Visa Signature cards come with concierge benefits. Although you'll probably need better credit scores and higher income to get your application approved for a card in such tiers. 
To make it even more convenient for you, we have listed a few credit card concierge service providers:
Visa:

Concierge services are available on Visa Signature and Visa Infinite cards.

Mastercard:

The Master Card World and MasterCard World Elite are the two tiers of credit cards offering concierge services. 
American Express:

Amex offers an exclusive selection of the three most premium credit cards on its range where you get concierge services. These are: 

American Express Platinum Card 

American Express Business Platinum Card 

American Express Centurion Card

Citi:

A lot of Citi credit cards come with the benefits of concierge services. 
Luxury Card:

Luxury Card offers 24/7 concierge services to all Luxury Card cardholders.
What Do Concierge Services Cover and Exclude ?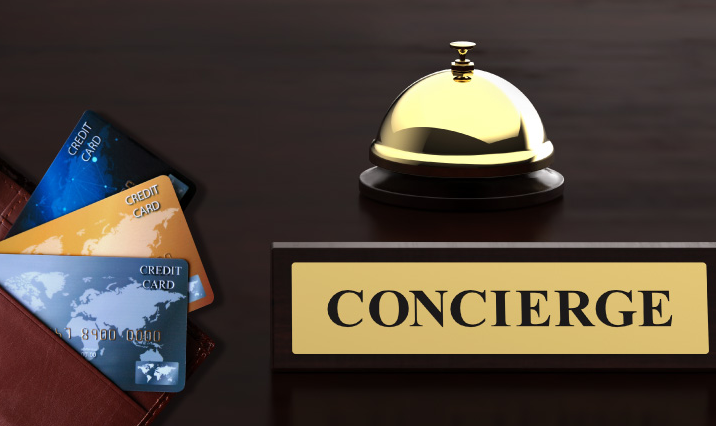 The kind of credit concierge service you get from your credit card company essentially depends on how creative your requests are and the amount of money you are ready to spend. More or less, all premium credit card concierge services can do the same things on your request or demand. 
Although a few specific credit cards offer additional benefits to customers and in combination with concierge services, they provide a refined and luxurious experience. 
For instance, some card issuers make concierge services accessible through email, live chat on the mobile app as well as on-call. This makes it more convenient for the customers. Similarly, another credit card company may have a connection or relationship with a network of restaurants and merchants and can offer you exclusive offers and benefits that other cards won't. 
That being said, most credit card concierge services can offer a few common services that can be extremely convenient and do the heavy lifting in case of specific or complicated needs of customers. These services are known to make such jobs easier.
Let us take a look at what credit card concierge services can generally do for you. 
Booking Travel Tickets and Accommodations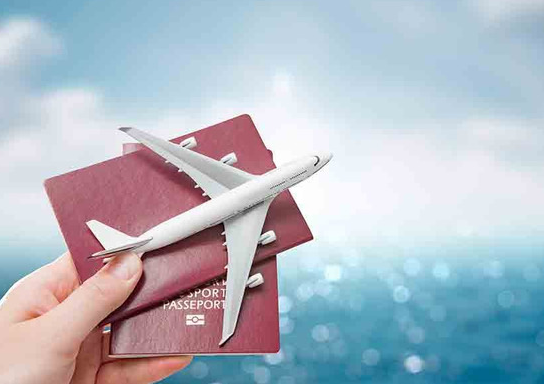 Booking travel tickets can be very time-consuming. This is because you need to compare the price of travel tickets that include plane and bus tickets as well as prices of hotel rooms, etc. Your credit card concierge can do this for you instead. 
Planning Trips
Concierge services can also help you with the entire travel planning and can cover different aspects like finding attractions, local food destinations, nearby restaurants that match your preferences as well as dietary needs. They can also help reserve rental cars and a range of other activities that are important for a trip. 
Making dinner Reservations
If you need a restaurant reservation for any kind of occasion, an upcoming family event, or an office/business meeting then the concierge can arrange a reservation according to your convenience and based on the openings available.
Purchasing Tickets
Concierge services can also book tickets on your behalf. They can book tickets to concerts, movies, sports events, football matches, and a variety of other high-demand shows or happenings at your preferred location. They also have relationships with reliable resellers and can get you a ticket even if the tickets to the event are all sold out. 
Choose and Get a Gift for a Purpose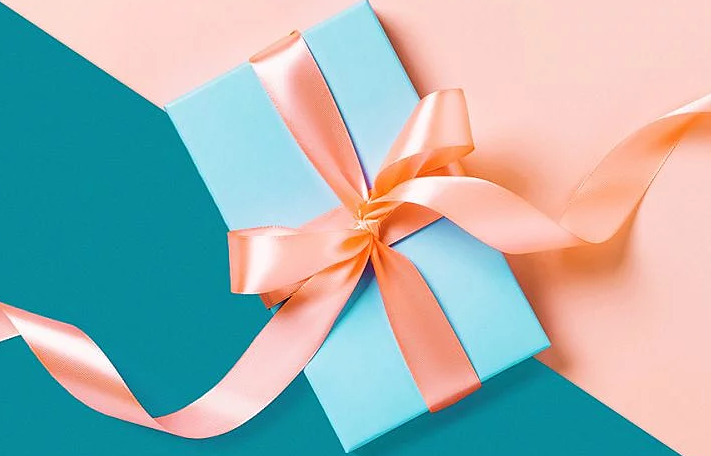 When it comes to choosing or getting a gift for an occasion like birthdays or anniversaries, concierge services can be of great use. Not only can they recommend the right ideas but also suggest the right places to get them from and also get them delivered to your preferred location from the merchant. 
Read Also: Best Gift Cards
Locating hard-to-find and Rare items
Whether you're after an item that is in high demand or a specific item that is out of stock at your local grocery store, concierge services can get it delivered to you. 
Recovering lost or forgotten items of possession
Concierge services can also make arrangements to collect something that you may have left behind at a hotel room or some other place and can return it to you before it gets lost. 
Conducting Research and Acquiring Information
Your concierge can get almost any information for you, anytime you need something and that might as well include reaching out to a brand or third-party service provider for a piece of information. 
Limitations of Concierge Services
As we already said, it is like a genie in the box, but of course, there are limitations. Concierge services are very convenient and can offer you a wide range of services to save your time and efforts. But there are things that they cannot do.
Some of the things that a concierge service won't be able to do for you are:
Acquire any classified information.

Perform any illegal tasks.

Cannot make sales on your behalf.

Although they can help you acquire information, they cannot do your professional work.

Offering medical assistance or advice.

Although they can make arrangements through third-party vendors or delivery services, they cannot run errands for you.
Final Thoughts
All that being said, credit card concierge services are extremely beneficial and convenient, especially for people who have a busy schedule. They are somewhat like modern-day personal assistants we find on our smartphones. If you can use these services wisely and can afford to spend the money required to get these services on your credit card, you will surely not be at a loss!